Pelatihan Penyusunan Profil Gampong dalam Peningkatan Perencanaan Pembangunan Gampong Lamduroe
Keywords:
training, village profile, planning
Abstract
The gampong profile is a comprehensive overview of the character of the gampong, including basic family data, natural resource potential, human resources, institutions, infrastructure and facilities, progress and various problems faced by the gampong. The profile serves as a source of information on potential as well as limitations. Therefore, the data must be complete and accountable. This Community Service activity aims to assist and provide training to the apparatus of Gampong Lamduroe, Aceh Besar District in improving the profile of the village in question. The objectives are, firstly, to train gampong apparatus in creating a profile of Gampong Lamduroe which contains data on potential gampongs and secondly to present village profile data that can be accessed properly. The results of the identification of problems, the profile of Gampong Lamduroe seeks to improve various data and information as required in Permendagri Number 12 of 2007, especially for data on natural resource potential. However, other data such as basic family data, human resources, institutions, infrastructure and facilities as well as progress and problems faced by the gampong are still not well organized and complete. The output of this service activity is expected to have a Gampong profile document and the next step can be making a Gampong profile video. In the long term, gampong profiling is carried out with continuous feedback by the Lamduroe Gampong apparatus.
Downloads
Download data is not yet available.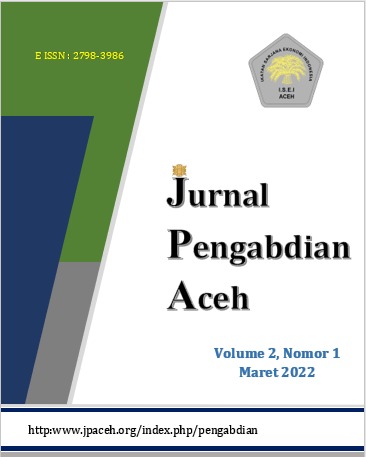 Downloads