Penerapan Metode Aquaponik Dalam Pemberdayaan Masyarakat Pasca Pandemi Covid-19 Di Kelurahan Sungai Beliung, Pontianak
Keywords:
Hidroponics, yard, urban community
Abstract
The rapid economic development in urban areas has resulted in more narrowed agricultural land cultivated to meet community need for food. Utilizing yard, land around residences, can be a solution to fulfill the need mainly during the Covid-19 pandemic. This service activity was intended to educate and empower the community of Sungai Beliung, especially the residents of Gang Rahmat and Gang Tirta Kencana RT 002/RW 032, on using their yards with an aquaponics system. The service activity method includes: 1) socialization, 2) training implementation of designing aquaponics facilities, sterilizing fish ponds, seeding vegetable, and transplanting vegetable seedlings to aquaponics facilities, and 3) monitoring. The service activity has led to developed community insight and increased residents' knowledge, and it has created interest in implementing the aquaponics system on the land around the residences as an alternative to meet the family needs for vegetables and fish. The aquaponics system is expected to be a means to improve the economy of urban communities by providing economic value of the yard.
Downloads
Download data is not yet available.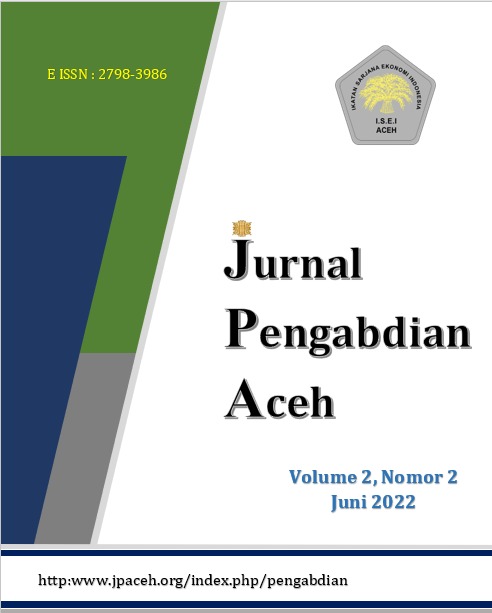 Downloads