Pelatihan Kewirausahaan bagi Pelaku Usaha Pengrajin Sasirangan Kabupaten Hulu Sungai Tengah, Provinsi Kalimantan Selatan
Keywords:
UKM, Sasirangan, Entrepreneurial Character, Training
Abstract
The UKM of the Sasirangan craftsman group in the HST district, apart from being relatively newly developed, was also affected by the COVID-19 pandemic which limited social interaction, thus hampering it. Facing these tough challenges, the craftsmen need a mental business requirement that is rooted in their individual character. The character of an entrepreneur must be possessed by a craftsman to help him survive and develop. Therefore, a training is needed in order to build entrepreneurial character for UKM Sasirangan craftsmen in HST district. The participants felt that this training was too short, so they felt it was unsatisfactory and they wanted to give similar training again. Participants feel they have not been able to fully implement the results of this training. For this reason, feedback has been given, that it is impossible for all of this knowledge to be implemented at once, it takes time to be trained independently and continuously while working (learning by doing) and training only provides provisions for participants to initiate change, and no change will occur if participants do not start it, because the change only occurs by himself. Participants realized that the character of an entrepreneur must be formed intentionally, and the process of internalizing entrepreneurial character takes time to shape a person so that to help them survive and develop.
Downloads
Download data is not yet available.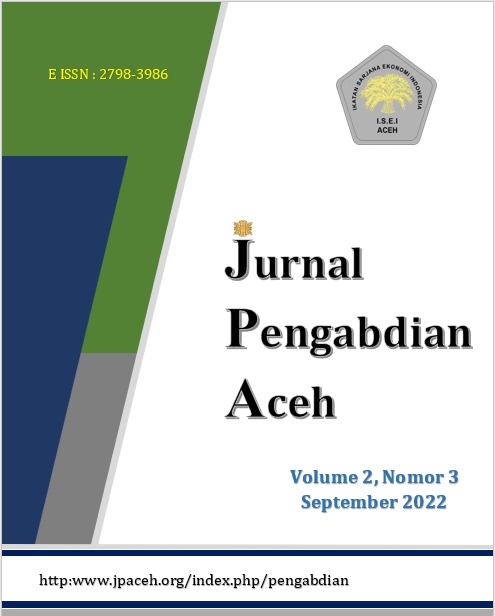 Downloads