Pemberdayaan Masyarakat tentang Percepatan Penurunan Stunting di Desa Doy Kecamatan Ulee Kareng Kota Banda Aceh
Keywords:
community empowerment, acceleration of decline, stunting
Abstract
Based on the facts and the results of interviews with community leaders, it is stated that stunting conditions are still experienced by many people in Doy Village, Ulee Kareng District, Banda Aceh City. By looking at the service of community service partners, the purpose of this service is to provide knowledge and information to the local community in order to prevent stunting. It is hoped that through this activity, family members can participate in reducing stunting rates in Doy Village, Ulee Kareng District, Banda Aceh City. After being given information and education, the presenter gave an evaluation again by asking questions about the material that had been explained, this was done to find out the extent to which the respondent's knowledge or understanding had increased. explained again about the stunting material presented. Women's empowerment programs need to be continuously improved and developed to reduce poverty in households with poor quality of life. The government needs to provide wider access to women to obtain opportunities in the fields of education, skills, decent work in the formal sector and job creation programs, namely by implementing the local BUMG (Badan Usaha Milik Gampong) program to improve the community's economy and reduce poverty. stunting rate in the village can be resolved. Sustainability programs are needed to optimize community service programs, so that in the future it needs to be carried out for local health cadres so that they can be independent in the management of stunting prevention and control to the community in Doy Village, Ulee Kareng District, Banda Aceh City.
Downloads
Download data is not yet available.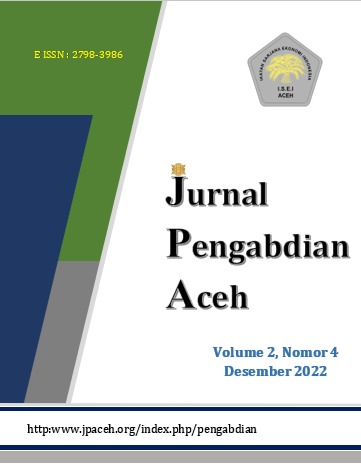 Downloads