Gerakan Peduli Pandemi Covid-19 Melalui Sosialisasi dan Program Gemas: Pelaksanaan pada Masyarakat di Sekitar Kampus Universitas Syiah Kuala
Keywords:
masksSARS-CoV2, socialization, Universitas Syiah Kuala
Abstract
In 2020 Covid-19 was declared a pandemic in Indonesia and in early 2021 was the beginning of the first peak of the pandemic in all provinces in Indonesia. As an effort to prevent Covid-19, the government issued a 5M policy, namely washing hands, wearing masks, maintaining distance, staying away from crowds, and limiting mobility. Based on field surveys, data was obtained that there is still low knowledge of the community around the campus regarding information on how to transmit the SARS-CoV2 virus that causes Covid-19 and how to prevent it. In addition, many of them do not have the awareness to wear masks when in public places or crowds. Therefore, to support the government's efforts in order to overcome pandemic problems, this service activity aims to socialize public awareness about Covid-19 and increase public awareness of the importance of wearing masks during the Covid-19 pandemic through the "GEMAS" mask-wearing movement.  This activity was carried out around the Syiah Kuala University campus during the Covid-19 pandemic. This service program is carried out through Covid-19 socialization by distributing leaflets and distributing masks for free to the community around the Syiah Kuala University campus. This activity went smoothly and successfully. This can be seen from the increased public awareness of the importance of wearing masks and the increasing number of people who use masks.
Downloads
Download data is not yet available.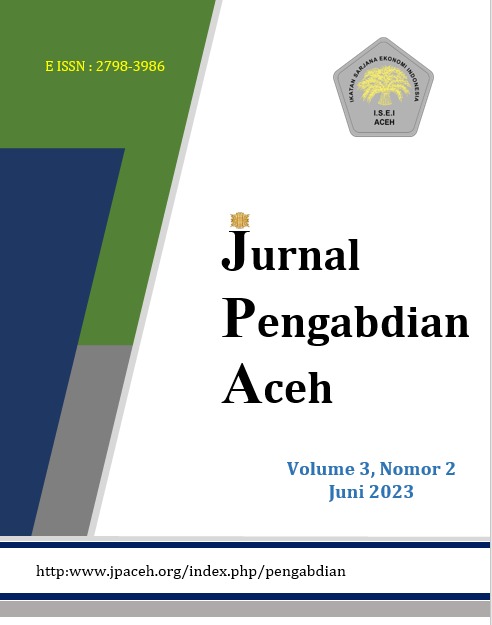 Downloads